Google Business Page Optimization Basics
Google Business Page Optimization is the process of editing and updating your Google My Business (GMB) listing to make it look better to people who might be looking for it online. It helps improve your visibility online, leading to more customers and growth for your business. Here are a few local seo optimizations we start with.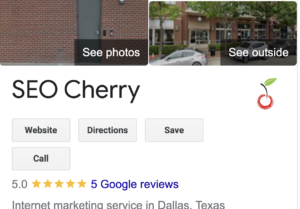 NAP Consistency
Making sure your name, address, and phone number are the same across all your online listings is essential. There are two reasons for this. First, customers might get confused and have trouble finding your business if the information is different on different websites. Second, search engines use this information to determine your business's trustworthiness. If the information is inconsistent, you might not rank as high in search engine results as you would like.
To check your NAP consistency, we do a quick Google search for your business name. If we see multiple listings with different NAPs, you'll need to update your listings to match. You can also use a tool like Moz Local to scan for inconsistencies and help you fix them.
Keyword Research
To optimize your GMB, it is essential to choose the right keywords. Keywords are the terms or phrases potential customers use when searching for businesses like yours. For example, if you own a pet store, some relevant keywords might be "pet supplies," "pet food," "dog collars," etc.
To find the right keywords for your business: 
we start by brainstorming a list of terms describing what you do and sell. 

We use a keyword research tool like Google Keyword Planner or SEMrush to identify which keywords are most popular with searchers. 

Once you have found a few good options, use those keywords in your GMB listing. The right keywords will improve your ranking in relevant search results. 
Reviews and Ratings
An excellent way to improve your business is by getting positive reviews from customers. They will trust the reviews as much as a personal recommendation. The search engines will also look at the reviews when ranking your website.
 Rank Higher in GBP w/ Local SEO Experts
Let the local SEO Experts at SEO Cherry help increase your Google Business Page visibility. Higher visibility in Google Maps generally means more calls, messages, and website visits. Hire the #1 Dallas SEO Company for your local needs.