Dallas PPC Management Services
Dallas PPC Management services can be leveraged by any Dallas/Ft. Worth area business. The great thing about Paid Search Marketing is your in front of local Dallas area searchers quick. In many cases your Pay-Per-Click Advertising Campaign can be live within hours. SEO Cherry's PPC Management service, is perfect for large and small businesses.
Re-targeting PPC Advertising Campaigns
Re-targeting is a rather new feature that creates great ROI for local businesses. This allows us to continue serving ads to people that have clicked on our ad before. This is proven to convert to sales in numbers case studies.
In fact, 30% of consumers had a positive re-targeting advertising experience. Whether you realize it or not, you've likely purchased more than one product or service online due to re-targeted advertising campaigns.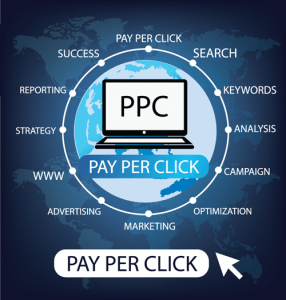 Dallas PPC Management For Small Business
SEO Cherry's Dallas PPC Management services are perfect for local area businesses. Your visible fast, and Pay-Per-Click Advertising will allow you to only pay for the clicks you receive to your website or landing page. Google AdWords is the most popular paid search marketing network. We can target your potential clients or customers by zip codes, keyword, & more. If your running a local SEO campaigns, your SEO Consultant will use this data to further optimize for Google, Bing, and local search engine directories.
Why Hire a Local Dallas PPC Advertising Consultant?
The main reason to hire a local Dallas PPC Advertising Management Company, is we can stop by your office! On top of that, since we work with local Dallas area businesses, we know what it takes to get results.. On top of that we can:
Lower Your CPC (Cost-Per-Click)
Increase Your CTR ( Click-Through-Rate)
Increased Visibility
Increase Your Conversions
Diagnose Problems
We Stay up-to-date With Google & Bing Paid Search Practices
Saving Money Means Making Money!
Google AdWords Campaign Management
The cornerstone of most local Dallas PPC advertising campaigns is the Google AdWords network. In most niches it provides the highest volume of traffic. Google AdWords advertising campaigns are proven time and time again to bring great results. When complimenting your pay per click marketing with re-targeting ads. You greatly improve your chances of paid internet marketing success.
Google Search Network and Display Network for Paid Search
In 2o15, Google brings us both the Search Network and Display Network. Your SEO Cherry PPC Manager can work with you to decide if using just one or both options is best for your business.
The Google Network is divided into two major options for your PPC ad campaigns.
The Search Network: Your Ads are visible in local Dallas area Google search results, map listing results, shopping feeds, and more..
The Display Network: This includes popular Google owned sites such as YouTube and Blogger. Your ads can also be visible on partner sites such as CNN, or USA Today.
Where Do Bing & Google AdWords Show Up?
There are many places that where your paid search campaigns can be visible. A few of the places are:
Google Search Results
YouTube
Google Maps
Google Shopping
Google Partner Websites
In-App Mobile Ads
There are numerous places that your target audience may be visiting online. If your not running PPC campaigns, your missing out on great new business and branding opportunities. Call SEO Cherry today for your PPC Advertising Management needs.